In Memory
Babette Rathke (Barley)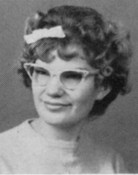 Babette Lynn Barley Rathke, age 75, retired Wichita Police Dept. word processor, passed away Saturday, June 5, 2021.
Visitation with family present from 3:00 to 5:00, Wednesday, June 9, 2021. At Culbertson-Smith Mortuary
Memorial service on Friday, June 11, at 10:00 a.m. at Culbertson-Smith Mortuary, 115 S. Seneca, Wichita, Kansas
Babette is preceded in death by her husband, John Parker and her parents Lester & Berniece Rathke.
Surviving is her daughter, Wendy Wallace of Wichita.
Memorials have been established with the Kansas Humane Society and the Wichita Police Dept. Homeless Outreach team.
View tributes at: smithfamilymortuaries.com.
---