In Memory
Billy Lindsay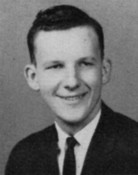 Billy L. Lindsay, age 71 passed away on January 27, 2017.
A memorial service was held at 3:00 p.m. Friday, February 3, at Woodlawn Baptist Church, 960 S. Woodlawn, Wichita.
Billy was born October 31, 1945 in Wichita. Survivors include his wife, Danese, son Billy and a daughter Yvette and a sister Mary Snodderley all of Wichita. Memorials, in lieu of flowers, may be made to the Parkinson's Foundation, 200 S.E. 1st Street, Suite 800, Miami FL. 33131 and or Experimental Aircraft Association Chapter #88, Youth Scholarship Fund, P.O. box 780833, Wichita, 67278.
Cochran Mortuary